Artglass AR 70™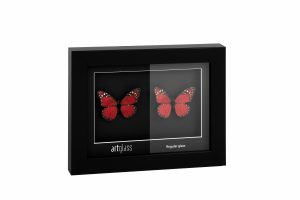 Artglass AR 70 reveals the true colors and texture of art – no green tint or optical distortions. Artglass AR 70 is one of our original anti-reflective products, and it has always been about clarity. It provides an exceptional viewing experience, reducing reflections to less than 1%. The remaining reflection has a neutral green color, which is characteristic of all anti-reflective glazing products. 
DURABLE AND EASY TO CLEAN 
Artglass AR 70 doesn't attract dust and is perfectly suited for your home environment. Its durable coating is scratch-resistant and can be cleaned with an ammonia-free glass cleaner and microfiber cloth. Artglass AR 70 will enlighten the work of every framer – it can be cut and glazed from either side and its coating is scratch-resistant and very easy to clean.
Need more convincing?
See more of what Artglass AR 70 has to offer!
Eliminated reflections
Improved light transmission
70% UV protection
Easy to clean and abrasion-resistant
No color shift under an angle
Easy to process to your specifications
High durability and long lifetime of the coating
Passing photographic activity test (PAT) ISO 18916
Find out more on the artglass website!
TECHNICAL INFORMATION
| | | | | |
| --- | --- | --- | --- | --- |
| | Reflection | Transmission | UV-protection | Thickness, mm |
| Artglass AR 99 | ~1% | ~97% | ~99% | 2.5 |
| Artglass Lifetime Acrylic | <1% | >98% | ~99% | 3 |
| Artglass AR 70 | <1% | >99% | >70% | 2-3 |
| Artglass AR 92 | <1% | >98% | ~92% | 2-3 |
| Artglass AR 99 Protect | <1% | ~98% | up to 100% | 4.4 – 13.5 |
| Artglass UV 99 | ~8% | ~89% | ~99% | 2 |
Up to 2250x3210mm big sheets are available, while most popular are the cut-sizes, e.g., 1000x1600mm; 1200x1600mm and 1219x2050mm.
Sheets in standard inch sizes are also available, e.g., 24"x36", 32″x40″ and others.
UV protection is calculated as an average UV light blocking capability in 280-380 nm spectral region.
For other glass thickness please contact us at sales@groglass.com
The values are calculated for 2mm thick glass, based on the Standard DIN EN 410
For additional technical documentation please follow this link http://www.groglass.com/documents
Applications
Picture Framing
Custom Framing
3D Object Framing
Glass Printing*
*On 1 side coated product